As part of your CCS Continuous Compliance Services, we are here to assist with your client compliance documentation requests. Our process is designed to meet the unique security and compliance requirements for each client or prospect.
This service is designed to help meet your client and prospect compliance requests with:
Documentation Reviews
Compliance Request Analysis
Documentation creation and development for client or prospect related requests
Security and Compliance prospect assistance to win more business
Client specific resource development and maintenance
Ensure that all appropriate documents and requested resources are available to your clients
Dedicated Compliance Manager for all client or prospect related questions
The Process
Step 1: A client or prospect comes to you with a compliance document or request.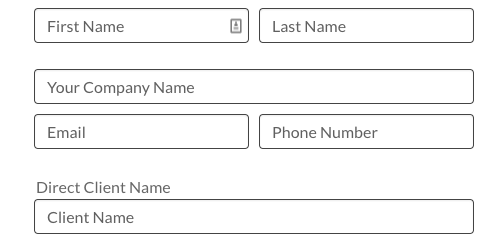 First Name & Last Name: Your First Name & Last Name
Your Company Name: The name of your organization with CCS Continuous Compliance Services.
Email: Your Email Address to send the proper resources once completed.
Phone Number: Your Phone Number to reach you if we run into any questions or issues.
Client Name: The name of the client requesting compliance documentation or resources.
Then, explain your client's request. Sometimes it is a simple as copying and pasting from an email or document. The more information you can provide us, the faster we can provide your team with your requested resources. It is also important to note any expectations or timelines that you established with your client for us to adhere to.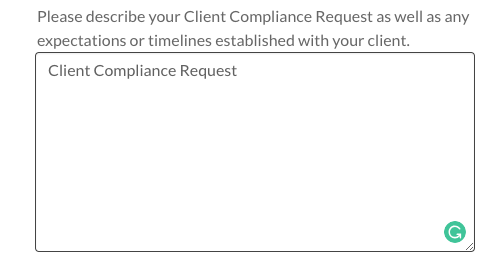 It is important to provide any documentation, spreadsheets or resources provided to you by the client. Simply click the "Choose Files" button and upload any resources that are relevant to complete this client compliance request.
When all of the above information has been provided, click the check boxes to agree to Choice CyberSecurity's GDPR agreements to receive communications and allow us to store and process your sensitive data. Then, click the submit button. For more information, view our Privacy Policy.

Step 3: Leave all of the work to us, but, be sure to check your email for any additional questions.
Step 4: Your Choice CyberSecurity Continuous Compliance Services Team will send you the requested documentation within 1 week of your submission to provide to your client or prospect.
Step 5: Send your client the provided documentation.
You can Find our Client Compliance Request Form.
Please note that the average turn around time for a client compliance documentation request is 1 week. If you need it sooner, please be sure to note that in the request.
Complicated Request?
Some client requests are significantly more challenging than others. If you feel that we should discuss this request in greater detail, please find a convenient time our Compliance Team Calendar here.
Questions?
Please direct any questions to your Continuous Compliance Services team at CCS@choicecybersecurity.com.